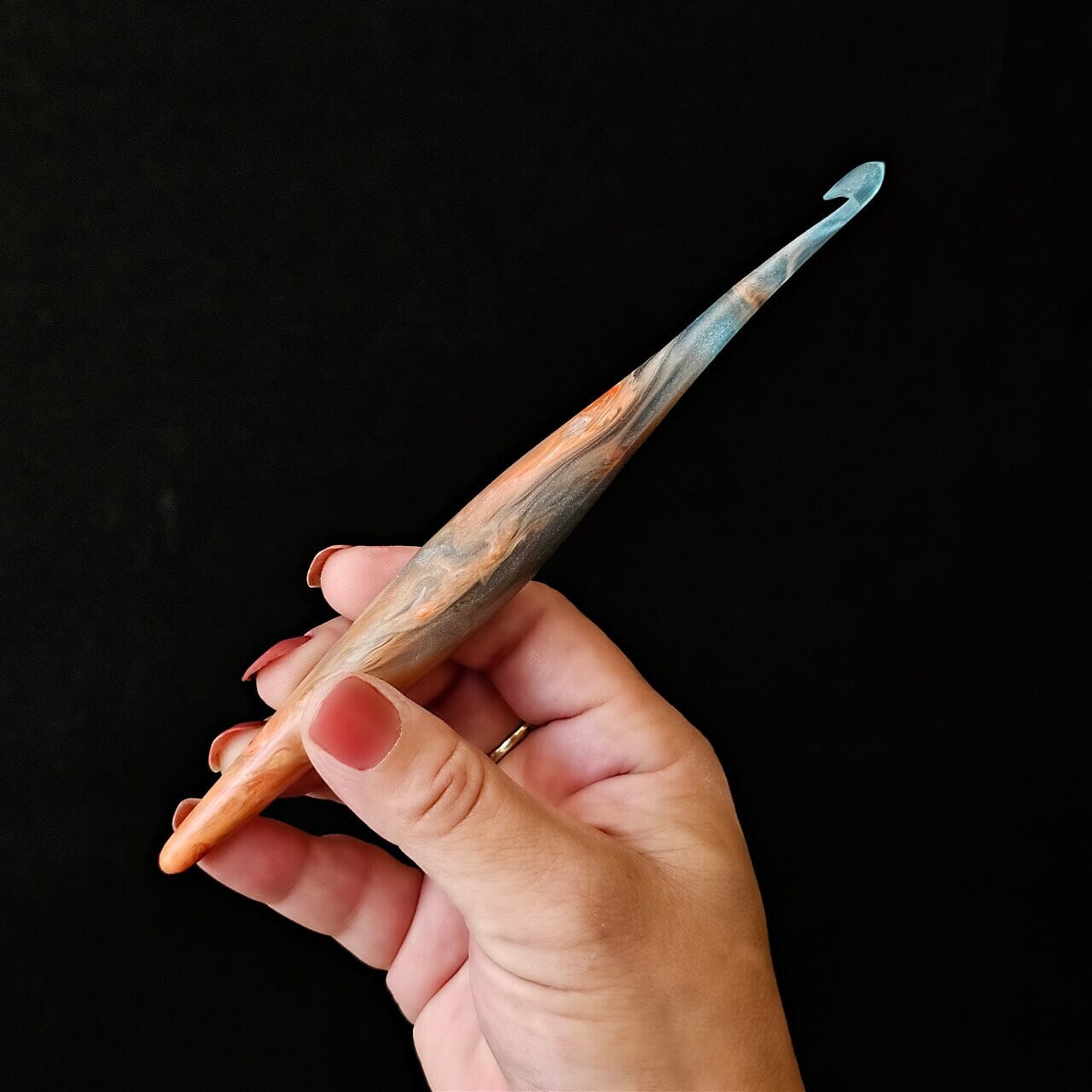 Andromeda Streamline Galaxy Crochet Hooks
Inspired by the sprawling beauty of the Andromeda galaxy, each hook is a unique piece of art. Featuring a turquoise base and coral swirls with a shimmer finish, this ergonomic, handcrafted tool brings the magic of the cosmos into your crochet projects.
Andromeda joined the Furls Family in 2019.
Material: Hand poured and hand carved with 100% Premium Resin*
Available Sizes: G/4.00 mm to Q/15.00 mm
Length: Designed for a universal fit at approximately 6.75 inches
Diameter: 17 mm at the widest point for optimal comfort
Weight: Approximately 0.5 oz
*Please be advised colors may vary slightly from what is pictured on our site. While we do our best to accurately display our hook colors, each product is handmade and may change slightly at each production. Computer monitors also display differently from device to device.
Ergonomic Design: Designed for the universe of crafters, ensuring maximum comfort, and reducing wrist strain and fatigue.
Cosmic Craftsmanship: Inspired by the sprawling beauty of the cosmos, each resin hook is meticulously hand-poured, swirled, and carved, making each one one of a kind.
Flawless Resin Finish: Enjoy a seamless glide with every stitch, with zero snagging.
Balanced to Perfection: A harmonious weight distribution that feels like stardust in your hands.
Iconic Streamline Shape: Perfected over the past decade to make each hook out of this world.
Storage: Preserve its cosmic shimmer by storing in its original box or a Furls Hook Stand or Tray. Keep in a cool, dry place.
Cleaning: Wipe gently with a soft, lint-free cloth and avoid abrasive materials to keep your Galaxy hook as radiant as the stars.
Pro Tip: Wash your hands before use. Refrain from using lotions while handling hooks to preserve the finish.
See our Furls Shipping Policy for full details and exclusions.
Free US Shipping on minimum orders of $60.
Free Canadian or UK Shipping on minimum orders of $120 USD.
Free International Shipping on minimum orders of $160 USD.
Easy Returns: Love it or return it! Hassle-free returns within 90 days.
Stellar Hooks for Wondrous WIPs
Infused with the ethereal beauty of outer space, each Galaxy resin hook captures the mystique of distant stars, swirling galaxies, and celestial wonders.
Meticulously crafted for form and function, these hooks promise an ergonomic experience that will elevate your crochet adventures to universal heights with tools that are truly out of this world.
EXPLORE OUR GALAXY